Customers experiencing trouble please visit: Support.
Thank you for taking the time to contact us about providing you with custom services!  Read more about Special Order websites.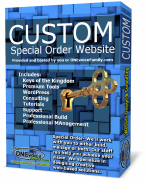 Delivering quality and exceeding expectations is our focus.
Please use this contact form for quote requests, questions and sending information about your special order/custom project, so we can figure out how best to help you.
THIS FORM IS FOR SPECIAL ORDER HELP.  AUTOMATED SOLUTIONS ARE HERE.  SUPPORT IS FOUND ON YOUR MY ACCOUNT PAGE OR AT THE SUPPORT CENTER.
ONEvoice Family 815 S 12th Street Gadsden, AL 35901, USA