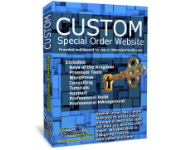 The tools we offer in our Gold plan are sufficient for anyone with ability to use for some pretty amazing stuff!  But sometimes, it's best to hire a professional.  In those cases, and if it's a match, we want to help you.  We pull things off others can't, and we keep in mind your a real person that needs to operate within a real budget.  We're here to help you implement a plan to achieve your desired goals. Our job is to serve with integrity.
Delivering quality and exceeding expectations is our focus.
We specialize in:
seamless integration with Facebook
eCommerce
membership websites
live video streaming
archived video streaming
and much more!
Special order work falls into one or both of two areas.
Design
Management
Depending on what you're doing, either could be rather simple or become very complex.
We understand our income is directly related to how many problems we solve.  We want to help!
To receive a quote, we'll need to gather a little information about your dream or project. Request Quote